for amazing performance
WordPress Site Speed
Page and Site Load Speed is now a search engine ranking factor. Going forward if you want your site to feature higher in Google Search Results then choose a fast version of WordPress.
But the best reason to upgrade is the number of visitors following through. We saw a 40% increase in the lead conversion rate for one project from paid clicks – just faster speed.
Mobile visitors are highly sensitive to speed.
Improve your Page Speed and User Experience was the most consistent message from Google in 2021. Take advantage and compete, with this big shift in website marketing, most WordPress sites are slow.
conversationware
The future is Gutenberg editor
Choose a fast WordPress theme
Most website development companies choose a flavour of WordPress that makes life easier for themselves. Using a page builder is easier, quicker, and more profitable, for them. But it doesn't help the ongoing success of the project.
Performance is what we care about most. A fast site is a converting site.
However, we also strive for a lower cost of ownership and the ability to produce and publish website content quickly. A fast, frictionless content production cycle means content happens more often, which is also good for performance.
The cost of producing a site is directly related to the technology you choose. And, the cheaper it is, the less well it might work in future. A site should last you five years.
Firstly, does page speed make a difference?
Yes. Faster sites deliver more leads from the same number of visitors, so we should make the page experience fast.
And then, high Search Engine Results Positions deliver exponentially more site visitors. It's a double win to make pages faster, and, in some cases, we got 40% more traffic due to speed.
You can't argue with Google's logic: users prefer faster sites, and Google wants happy users because they then use the search engine more often.
It's not only page load speed.
Pages that jump around whilst loading are not a good user experience, and so Google is grading us on how quickly pages fall into line, and users can start clicking.
User experience is affected by how efficiently the site is coded.
And whilst there are WordPress Page Builder tools that help non-coders build websites, it is almost always true that the easier it is to build, the slower and less visitor friendly it is and the worse the performance.
The Page Builder / Speed Trade-Off
A compromise of some sort is needed between low cost of ownership and fast speed. The new WordPress themes, like Kadence, that use the Gutenberg editor, give that perfect balance. It is fast to build, without the slow, heavy javascript overlay.
The block-based editor is nicer to use, and it has page builder-like features with reusable global blocks and components.
Choosing performance
Can WordPress be fast?
Oh Yes. But there are lots of build choices that affect the ultimate speed of the site and the visitor experience.
Design Choices
The shinier and more animated the site the harder we have to work to get it loading quickly. This is one of the main factors, the software and images used to make the page 'look good' be entertaining can slow down the site and page speed.
So, this is one of the easier decisions to make. Animated elements like carousels actually distract the visitors, so we don't need bells and whistles for the site to perform well. But it is design choice that has a lasting impact.
Underlying Theme Speed
The underlying 'installed Theme' provides speed, functionality and consistency for WordPress Agencies.
How the theme is written matters. Skilled developers write leaner and cleaner code – which kind of sums up the whole thing. Kadence is one of the two or three fastest themes for WordPress.
Page Builder Software Slows Down Websites
This breed of software lets you do all that shiny, animated, easy page layouts, without developers, does have a place. Websites are not all looking to convert visitors in numbers.
The main problem has been that page builder software is a speed killer. The secondary issue is that javascript has been an issue for Google, less clear but developing
Bloated Page Builders/Site Builders?
Without analysing it too deeply, the problem worsens when you have 'site builder' and page builder software on top of WordPress.
Here's a list of page builders – although we don't call the Gutenberg editor a page builder because it is built into the WordPress core software. We don't need extra third-party gunk.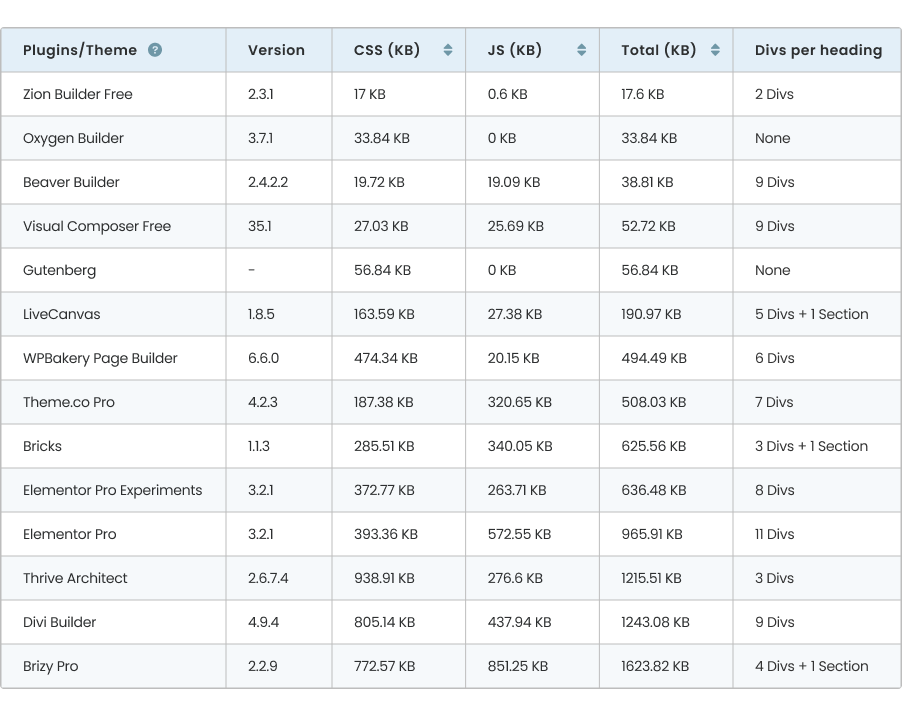 We have seen 'brand new' websites at speeds that score 8/100 for mobile. Things have gotten bad out there, and the search engines are taking action.
Most content wins
Speed of Production?
The amount of content we produce will contribute to the success of our businesses going forward. The world is more digital every day.
Get things published
The ability to produce and publish website content quickly without the need for a developer is what we strive for. A fast content production cycle means it happens more often.
Page builders did let users produce better-looking content quickly, but learning all the different builders has slowed collective learning.
So many different page and content editors slow the WordPress community as a whole: multiple interfaces and a lack of compatibility clutter the management of content. WordPress's open nature gives you flexibility, but it makes it harder to choose between options.
The rise of the new WordPress Gutenberg editor
Automatic runs WordPress successfully, with a 40% share of all global websites, and 64% of all Content Management Systems (CMS). The second place has 7% of the market.
The competition in the marketplace from Wix and Squarespace, and to an extent Shopify, which all compete on simplicity, is driving WordPress to reform itself.
So, Gutenberg helps page speed and site performance (a lot), but the bigger goal has been to make the editing experience better and easier to use to achieve more with less effort. There is no doubt that WordPress can achieve more in one platform than any other software.
The speed of library components
A component library was one of the selling points of page and site builder software. We are delighted in finding the Kadence WordPress theme can still deliver the library even with the change over to Gutenberg editor.
Incorporating lots of media, functionality and dynamic data simply and easily was high on our list.
It is part of the overall value and why we selected the Kadence theme. This is only the second theme change in 15 years, so it was a major decision.
Consistency in the platform is a major plank of an efficient web company.
Gutenberg is the WordPress creator's answer to losing page-building software. It is a new 'built-in' WordPress page editor with rich functionality.
conversationware
The Gutenberg software provides 'blocks', which give greater control of the 'design layout' inside posts and pages.
Page speed is not the only consideration
User-friendly page layouts without developer support. Gutenberg is the right answer. The goal is to get great website pages built quicker for lower costs; library functionality is key.
What is Gutenberg like?
Nobody likes change, and it took a little while to get used to; like all new software, it went backwards for a while but is now going forward massively quickly. It is absolutely the best of all worlds.
Choosing the new WordPress was a great decision.

Changing an engine mid-flight
This was something we wrote in the early days of Gutenberg. We were lucky to have chosen a WordPress theme company that does things properly.
Kadence ensured backward compatibility at every stage, and rewrote things where necessary, instead of quick fixes. We are grateful to them.
More than that, it means we are in safe hands with incredible support and levels of smart
WordPress went through massive change
Summary
New WordPress was worth it. Search Engines, Visitors and Users all like the new WordPress better. It gives a business a much higher performance.
WordPress managed to pull off the changing of the engine mid-flight. It truly is a pleasure to work in the new editor environment. It's set for even more innovation in the future, which looks bright!

Choosing a WordPress theme? What to do?
Select the fastest, most flexible theme with Gutenberg, one that supports a global library of components and one that has 'hooks and filters' (this allows insertion of content anywhere on a selectable basis, and is developer friendly.)

Why developer-friendly themes?
The benefit of WordPress is that it can grow with you. But the theme either enables or restricts that extra layer of functionality.
Never get stuck
Replacing things that are not fit for purpose is always painful, expensive, and takes too long.
The Kadence Theme has the fastest-growing theme adoption of all the new breed Gutenberg themes; it can do everything – it even makes woo commerce, the WordPress shopping engine, work better. We are in safe hands.